Letter Together is a hybrid monthly subscription/community. In Letter Together, members will receive not one, but TWO sets of printable handlettering worksheets each month. In addition to this, they'll also have access to our private Facebook group to connect, share their art and work on the lettering together!  I'm so excited to tell you more about Letter Together!
Why a membership?
I have been parts of several different membership communities, both for fun and for business. They are such a great way to work on something consistently and not have to think too much about what you want to practice. It's a way to be challenged by something you may not have tried on your own or you have been wanting to try, but didn't know where to start!
In Letter Together, you will receive both! You will get printable handlettering worksheets each month on the 1st & 3rd Friday of the month after May (*see FAQ for info about the May 2020 schedule). You will also receive access to our private Facebook group to join in community with others who are working on the same skills that you are!
To help explain some of the details of the Letter Together membership, I created a Q&A of sorts, where I share some questions that I think you may ask and answer them for you! I hope this helps!
Q: How does it work?
A: It's super simple! If you're interested in joining the Letter Together membership, you can simply click here and get signed up. Once you do, you'll have immediate access to the first set of lettering worksheets for May and a link to join the private Letter Together Tribe Facebook group! You will download the worksheets and save them to your computer so that you can use them over and over!
The second set of worksheets will release on May 22nd.
Q: When will I receive new worksheets?
A: After May, worksheets will arrive twice a month on the 1st and 3rd Friday of the month. Since we are a bit into May, the first worksheet set is already available and the second one will arrive on the 4th Friday of May (May 22nd) as an exception.
Q: How do the worksheets come to me?
A: When you enroll in the Letter Together membership, you will become a student of my online community. Once you are logged in, you will see a lesson for May 2020. Inside this lesson, your worksheets will be available for you to download and save to your computer. The worksheets will be in PDF Files (no physical copies will be sent through the mail).
Q: What about this Facebook group?
A: For those who would like to connect with other Letter Together members, I have created a private Facebook group for sharing photos, asking questions and doing this together!
Q: What is the cost? Is it a monthly fee? Do I have to commit?
A: This is one of the best things about the membership! The cost of this membership is just $10/mo (USD)! For $10 a month you will receive 2 sets of printable lettering worksheets & access to our members only Facebook group!
Your card will be charged monthly and you can cancel anytime.
Q: Will the worksheets be sets that are currently available in your Etsy shop?
A: No! The Letter Together membership will receive brand new worksheets made specifically for them! This may occasionally include ideas or styles that are in the shop, but they will not be identical.
For example, I have a Bouncy Lettering workbook currently available in my Etsy shop, but that is a topic that we may want to practice in the membership group! If we do have a month where we practice bouncy lettering, I will create brand new worksheets for Letter Together members!
Q: What types of worksheets will we get?
A: This will change every month! Sometimes we may practice a new style and others may be a new technique. But weeks 1 & 3 worksheets will typically be related to each other in some way so that we are focusing on one concept for the month. A typical example may look something like…
Week 1: An alphabet in a new style or practice using a new technique
Week 2: A traceable quote using that new style or technique
*Please note: because this is a membership, things evolve and may not always exactly follow that exact example. One of the fun things about a membership is learning something new and I will work hard to listen to group members feedback & make sure that I am creating worksheets that I think will be helpful for you!
Q: Do we need a lot of supplies to be able to participate?
A: I would recommend having a pencil or pen, paper and at least 1 type of brush pen. A majority of handlettering styles that I use are created using a brush pen, so this is something that you may want to have. However, the size of your brush pen does not have to be exact. For many of the worksheet sets, you will receive 2 different sizes so that you can use either a larger or smaller sized brush pen to practice.
You will also need access to a printer to print out your digital worksheets.

Q: Is this an online course?
A: No. Letter Together is a subscription where you will receive new digital download printable handlettering worksheets twice per month! By subscribing to Letter Together, you will also have access to our private Facebook community.
Q: What is included in May's worksheet set?
A: The first worksheet set for May is already available and ready for you to download and that is: 12 Ways To Letter (the alphabet!). In these worksheet sets, you'll receive traceable examples to create 12 different variations of each letter in the alphabet. This is available in a smaller or larger sized option. Worksheets may not always include this many pages and content will vary from month to month.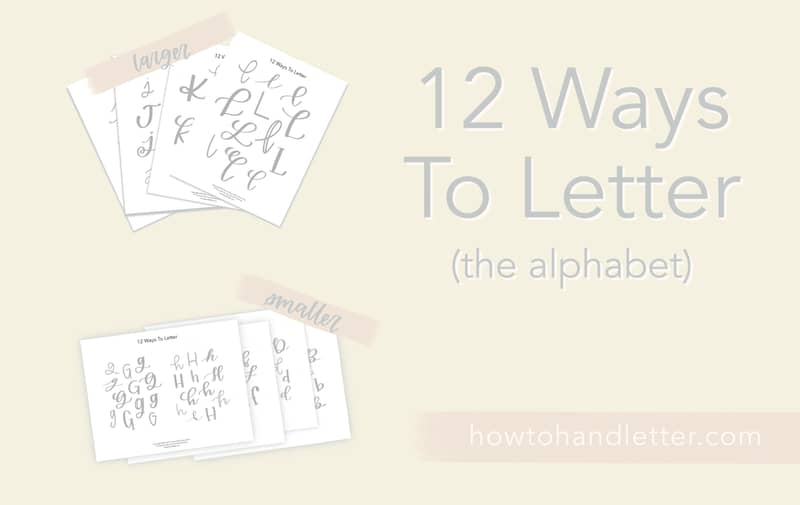 Q: Will I be able to buy the worksheets later if I don't join the membership?
A: This is a great (hypothetical) question! 🙂 The short answer is, not right now. Eventually, I may make these available for purchase, but I don't have exact plans to do that right now.
Q: Will I have access to my worksheets even after the month is over?

A: Your worksheets will be available for download within the Letter Together student portal. New worksheets will go live the 1st & 3rd Friday of the month and be available for you to download within that month. Worksheet files will be removed after the month is over, however you may download and save these files to your computer and use them as long as you would like.
I hope this answers all of the potential questions that you may have had! And I hope that the Letter Together membership is helpful for you!
If you are ready to join me over in the Letter Together Tribe, I'd love to see you there!
Click here to join Letter Together!
Have a great week!
Suzy